Last saturday my cousin Margaret invited me to go with them to Bislig to go to Tinuy-an Falls. I was very excited to go as it will be my second time to go there. The first was last 2006 with my best friend and a few other friends.
I remember how none of us have ever been there so we had to ask every few kilometers which way to go. It was really funny because when we first alighted from the van we saw a small yet wide falls and was very disappointed. This was the famous Tinuy-an falls that people were talking about? After all the traveling and the fear of stalled vehicle or worse, this is it? Then I saw at the right side of the mini falls a painted sign: Entrance. Please pay 10 pesos (or was it 5?). The mini falls was just a teaser after all.
That time I didn't have a camera of my own yet. This was the reason I was so excited to go there again.
On the day of the trip my cousin picked us up at Dunkin donuts at 5.30 in the morning. A normally 5 or more hours of travel, manang vicvic made it in 2 and a half. We made a quick stop over at my auntie's house at forest drive for breakfast, and to meet with our guide, Sonny.
The trip from the highway to the falls was as I remembered. The roads were rough, and it took awhile to reach the place. But didn't matter because the first time my companions saw the said mini falls they were ecstatic, especially manang vicvic. I thought to myself, just wait until you see the real falls. ;-)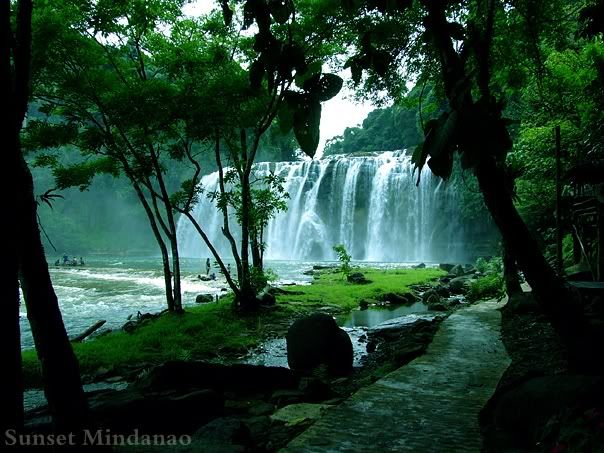 According to wikipedia, Tinuy-an, a three tiered falls, is 55 meters high and 95 meters wide. And it said that every morning at 9 to 11 there's a rainbow over the falls.
Unfortunately we arrived at noon so we didn't get the chance to see that sight.
I couldn't get any closer to the falling water because of the strong mist that occurs as the water falls.
The best site for bathing and general horsing around is at the second level. There is a stairs made of concrete and steel leading there.
Actually there's a fourth level but its not quite visible from below.
Tinuy-an Falls, Barangay Borboanan, Bislig City.
You can also check my video of the falls below.